Everton, Aston Villa, Leeds, Southampton amongst unexpected early runners.
Going into this weekend's fixtures, Everton had given themselves a serious chance of extending their lead at the summit, taking any points away from St. Mary's in their early Sunday kick-off with Southampton. However, the Saints' dominant performance over a 'hungover' Everton, Leeds steamrolling the Villa runaway train, and Leicester's smash and grab at the Emirates means the Premier League race is becoming somewhat of a steeplechase – a question of which teams will manage to survive all of the hurdles unscathed, conserving enough energy for the sprint finish. Watching everyone beating everyone else, this season could see anyone's name on the Premier League trophy. Anyone, except Fulham.
Stand-out Result: Aston Villa 0 Leeds 3
The two remaining undefeated records disappeared this weekend, and although neither were entirely unexpected, the manner of the results and performances reminded us that lockdown football is mad and unpredictable. Prior to the season's opening, many fans would have predicted a Leeds victory against Aston Villa but given the formbook, the capitulation of the Villans was extraordinary. No goals, and offering many chances, Leeds showed why they're being thought of so highly. They're hard working, intense, press all over the pitch, and give the opposition nothing. They're going to win fans all season long, and many more points along the way. Aston Villa need to be careful on how they react to this loss, and do everything they can to avoid the change in momentum and confidence.
Stand-out Match: Man Utd 0 Chelsea 0
This – game – was – boring. It was awful. Who would ever have suggested it was the one to watch from the weekend?! Oh… I did. Well, so did Sky Sports and so did many other fans tuning in on Saturday evening.

Prior to the weekend, I stated "It doesn't appear to be in either Manager's playbook to consolidate and avoid defeat" and I am not budging from that assessment. Whilst neither team committed sufficiently to the win, inspiring a heated debate between Patrice Evra and Jimmy Floyd Hasselbaink about wanting both sides to play without fear, it would equally be fair to say that neither team looked particularly competent in their tactics. Fear, not a consolidated performance, is what drew this game to a blank. It's that fear, and lack of ability to impose themselves on the opposition that makes this the stand-out match. Fans of both sides are used to title challenges and winning trophies, and want to be back amongst the silverware sooner rather than later, but this lack of cutting edge and winning mentality – leadership, as Evra repeatedly gestured – means these sides are sorely lacking from the required standard.

The underwhelming nature of this match will fill every Premier League side with confidence going into upcoming fixtures with both sides, damaging their chances in the race for the Top 4 – a race that is increasing its number of competitors with each passing week.
If neither team can be confident in their defence (also to be fair, who is right now?) and they shut up shop through fear, they will be there for the taking against sides high on confidence and with more organisation and depth behind their attacking talent.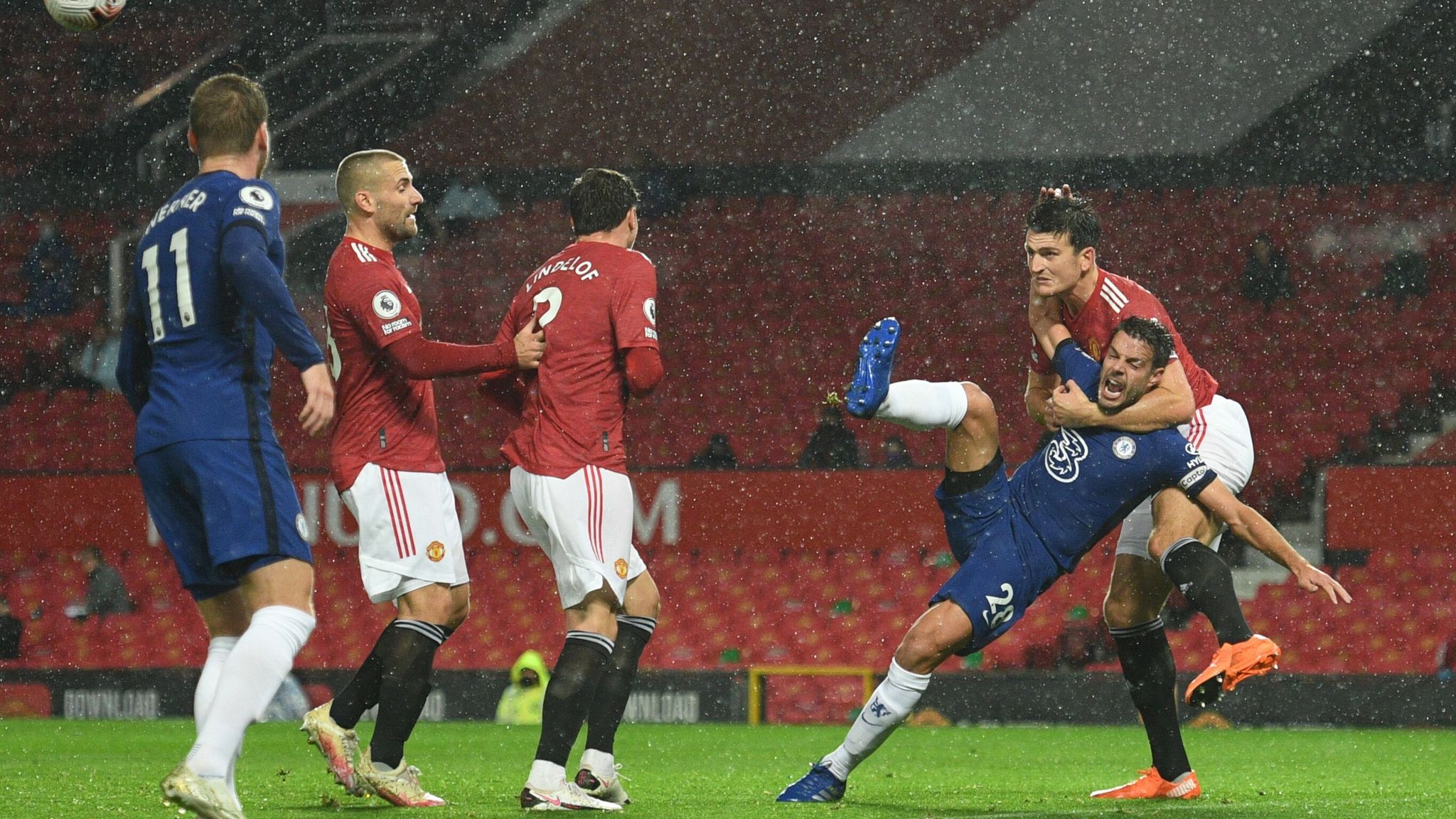 What was HUGELY curious about this match, was the HUGE INCOMPETENCE in not awarding a penalty to Chelsea. It's interesting the lack of media and punditry attention, the outcry and outrage over VAR, that has not happened when a decision has gone against Manchester United. Last week we had the fallout regarding the Pickford challenge, the week before the fallout regarding Lamela's play-acting – but a definite penalty not given to the opposition at Old Trafford? We used to laugh these off, because "You don't get away penalties at Old Trafford"… but the idea that there's a partiarchy system protecting the big teams needs to change. Why is no-one outraged by how bad a decision this was? Maguire literally headlocks Aziplicueta, there's plenty of camera angles, and plenty of time to get the decision right. Conspiracy? Or Incompetence? Either way, public statements from Referee HQ would settle how we all feel about it.
Stand-out Performance: Patrick Bamford
For the second week in a row, I need to talk about a forward I have released from my Fantasy Football team putting in the performance of the week. The game between Aston Villa and Leeds was likely to produce something special, and Bamford duly took responsibility with an excellent hat-trick – the 2nd and 3rd of which really demonstrated an exceptional standard of finishing. Leeds' fans had not been entirely sold on Bamford leading their attack this season, feeling he was too inefficient with his chances in their Championship campaigns, but he's finding his form nicely with 6 goals in 6 games and is carrying the Leeds assault on the top half of the table.
With the match on Box Office, you can enjoy the highlights and hat-trick below.
In Form: West Ham United
When this season's fixtures were announced, Hammers around the world were understandably concerned for their ability to start their campaign with sufficient points on the board to move away from the relegation battle. However David Moyes' men have managed to accumulate a number of points, results and performances to turn some of those frowns upside down. They're unbeaten in their previous 4 games and visit Liverpool next having beaten or held Wolves, Leicester, Tottenham and Man City. Should they avoid defeat at Anfield, West Ham will be set nicely to enter the winter months with more optimism than usual where they will begin with Fulham (h), Sheff Utd (a) and Aston Villa (h).
Out of Form: Pierre-Emerick Aubameyang
Despite the on-going contract sage, Aubameyang started the season in great spirits. The 'Feudball Goal of the Month' for September on the opening day, and an assist in the following 2-1 win over West Ham – everything was on song, and he and Arteta appeared to be on the same page. Since those two games, Aubameyang is four games without contributing to a goal. Those fixtures have been a tough run for Arsenal with Liverpool (a), Sheff Utd (h), Man City (a) and Leicester (h) – four of the top sides from last year – but he is their number one talisman, captain, and regularly one of the top scorers in the Premier League. Could his absence from the big games be the reason for Arsenal's recent struggles against the Big 6? That would be a harsh assessment, given their troubles span over 5 years, but his output during this period should be a minor note in your Fantasy Football planning given his £11.7m price tag.