Southgate opts to manage success on-field than PR off-field.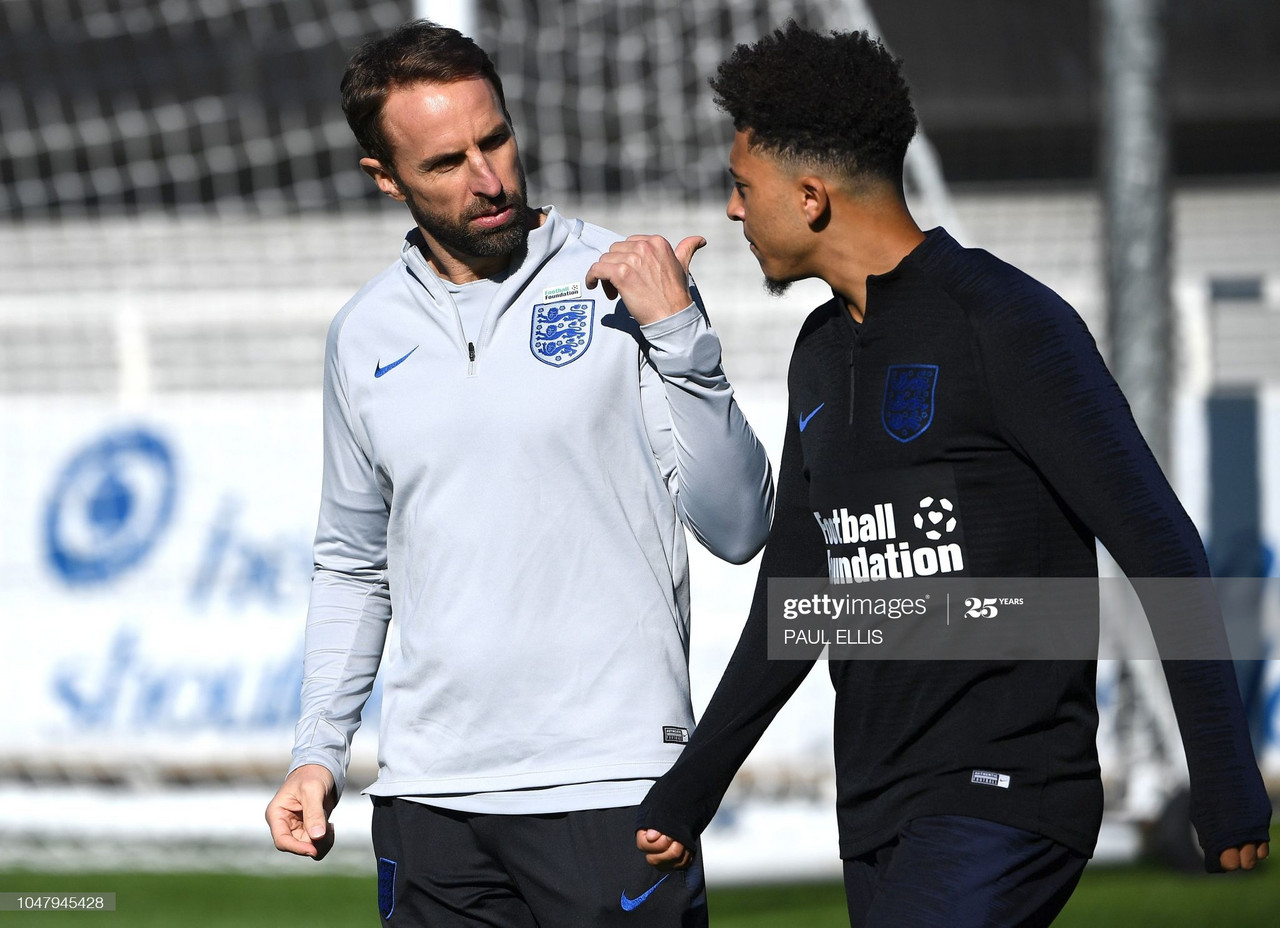 Gareth Southgate did not need to be told that being England Manager is a job off the field as much – if not more – as on the field. You have your players together 4 times a year for a fortnight. Most of your time is being on TV, doing press conferences and worst of all… responding to incidents that your millionaire footballers have got up to, again alienating them from the fans that turn out to support in their thousands over and over again.
Fuck. How is that his job too?!
So now he's in a position having to take questionably moral and legal considerations to his actions. His players, the players that he trusted, are repeatedly causing him these off field moral and legal considerations distracting him from the almost impossible role of winning tournaments as England Manager. So how does he approach it?
Let's take the current England Squad as an example: First up Abraham, Chilwell and Sancho; The Party Boys.
If the press release is to be believed (that Tammy Abraham came home to 20 people in his house for his surprise birthday party) I do have a little sympathy for him, but he did have the opportunity to kick everyone out of his house and report the incident to Chelsea and England at the time. He didn't – the 20 guests remained – he, Chilwell and Jadon Sancho would suffer the consequences. They broke the law, they put the England Squad at risk, they played fast and loose with the FA's England financial liability. Understandably, Gareth Southgate told the players they had breached his trust and were not to meet up with the England Squad until further notice.
Next: Phil Foden and Mason Greenwood.
Young, dumb and full of c… full of cash. Mason Greenwood has been in the Premier League spotlight for all of 6 months, Phil Foden approximately a year longer. They're understandably naive and excitable as you can imagine what life would be like if you were provided millions of pounds as a teenager. Unfortunately, whilst Greenwood flouted with modern dating technology (we're not questioning the morals of random hook ups here), he did involve himself and Phil Foden in a breach of the England Squad Covid restrictions for a bit of slap and tickle. This was again putting the England Squad and the FA at risk, breaching Southgate's trust and understandably removed from England Duties until further notice.
The fallout of Greenwood and Foden's misdemeanours resulted in a sudden hype for one particular individual…
But… wait… didn't he… what was that story… oh yeah…
That's right! Jack Grealish breached Government lockdown rules also, earlier in the year attending a friend's party until 8am, crashing his car – or allowing someone to crash his car – in the middle of the night. Fortunately for young Jack, at the time there was no football – no England Squad – no breach of Gareth Southgate's trust, just the breach of the trust of a nation… right?
Did anyone else do such an act that was overlooked by our England Manager? Oh… that's right…
Kyle Walker, the only player within this selection to not afford the excuse of being young and naive. Already having broken up a long term relationship by getting a model pregnant, he's furthered his Playboy reputation by partying with "escorts" (the term "sex workers" has been thrown about too) with a buddy. Again, it's not my place to question the morals of his actions (friendly reminder about the mother of his child…) but sex working is illegal, as was meeting others during the Covid lockdown at the time.
Again, no England Squad, no breach of Gareth Southgate's trust – just the nation's trust. Kyle Walker and Jack Grealish appeared in the next available England Squad.
Gareth Southgate has been very clear in his press conference this morning ahead of the first of England's 3 games during the international break. He is establishing a divide between what England players do whilst on duty, and wiping his hands of them when they are not under the banner of the FA but return to being their Clubs' responsibility.
"I have to be careful being on my moral high-horse when we aren't in camp with the team. I don't think we can attribute what happens when they are the responsibility of their clubs"
It's a safe – consistent – and wholly inconsistent approach to being in charge. Foden and Greenwood, the only players to have breach guidelines whilst in England's care, are the players that are punished the most here. The relativity of their actions appears to be irrelevant to the fact they were with England at the time.
Walker, Grealish, Abraham, Chilwell and Sancho all breached Covid rules too – but they did so whilst away from England where they caused Southgate no concern. In fact Southgate is making it quite clear that once the players are cleared medically to play, they'll be considered again during this International break.
"They miss the game with Wales, if they are not able to be with us by Friday morning, they will miss the game with Belgium. We just have to make sure to protect the whole group, that is key."
So a dangerous precedent – particularly when other players like Harry Maguire are getting arrested in Greece – to draw a line in the sand as to whether your crime occurs whilst with England or not. If Southgate really turns a blind eye to the Abraham Party, his inconsistency could cause further disruption.
Or is Gareth Southgate aware of the most unspoken of rule amongst football fanatics… we're all fickle and in a week we won't care anymore. There's always something new to get our teeth into and right now, whilst it seems like three incredibly stupid boys should be punished – when the three of them take the field against Belgium, we'll be right behind them singing "Happy Birthday Tammy Abraham".