*Pay-Per-View has been disbanded, but multiple pricey subscriptions still apply bar one occasional BBC match.
The irony is not lost on me, using an image of fans celebrating an England goal whilst discussing the end of the international week, but these levels of excitement only occur once every few years – or in the case of Scotland, once in a lifetime.
But the real football is back! And now every minute is free from PPV meaning if you really wanted to… you could watch every minute of every match for approximately £100 per month… I predict now that this will be the next target for the armchair fan – to collectively unionise and demand that subscription prices are made more affordable. We'll see. There is an underlying truth that there's too much money in football, and that money is generally provided by the football fan, so who knows what the next wave of lockdowns will bring. There's only so long furlough can pay those bills… But for now, let's celebrate what we have with this week's games!
Match of the Weekend: Spurs vs Man City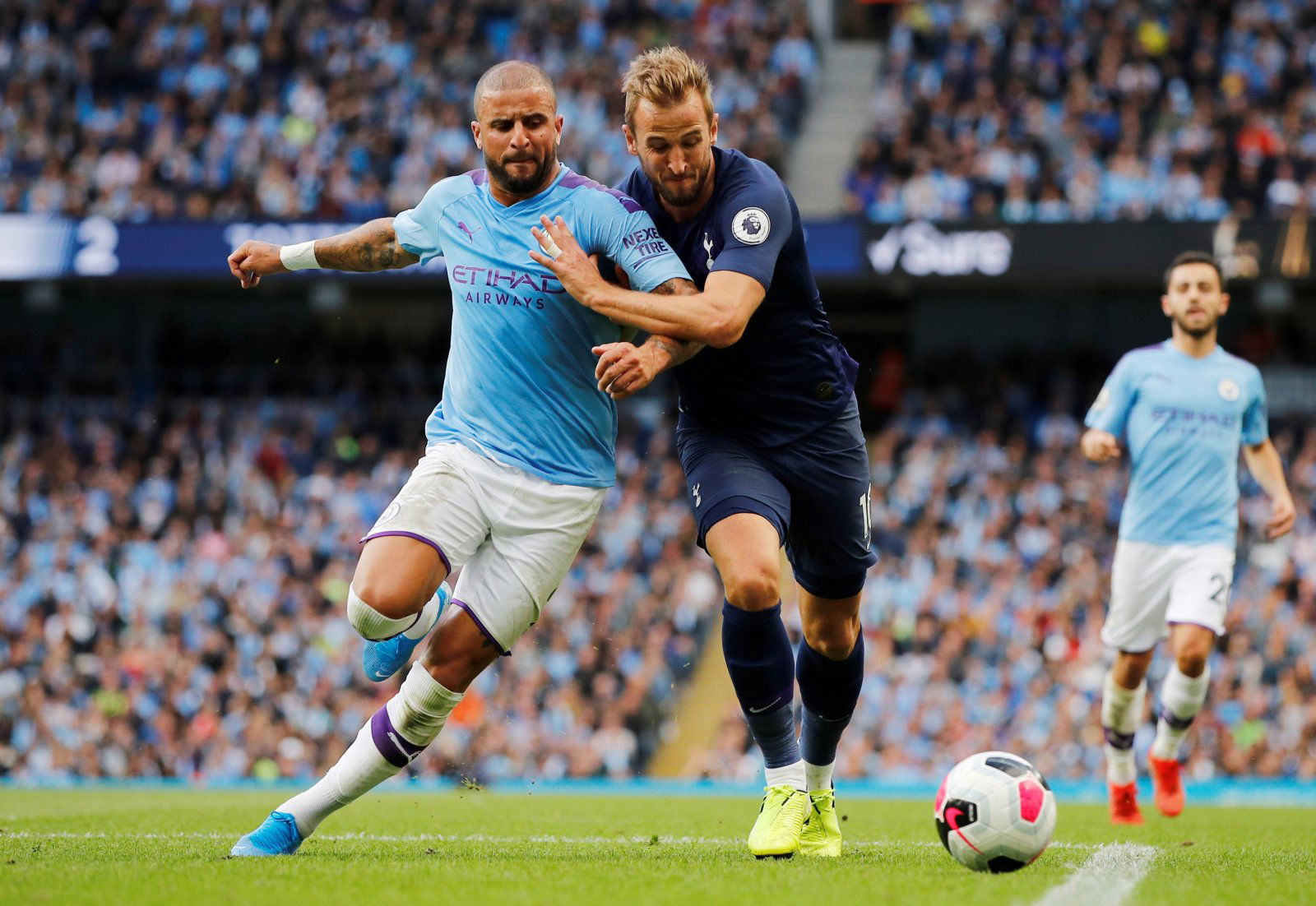 Super Saturday sees a modern day classic of a football match, with so many individual battles set to decide the fates of two of the major sides chasing title glory. This game is far more than just Mourinho vs Guardiola, more than just a recall of the infamous Champions League tie of two seasons ago, more than just 90 minutes of football.
Spurs can rightly believe this is their best chance of success in a Premier League campaign, with comparisons being made between this side now and the best they played under Pochettino. They look increasingly more and more exciting going forwards with Bale returning to full fitness, and a midfield behind becoming more accustomed to their roles in supporting the front three. Mourinho's game winning changes last time out at West Brom also show a sense of determination to win games and keep the pressure on those around them. From 2nd place in the table and a run of tough fixtures against City (h), Chelsea (a) and Arsenal (h), they could seriously consolidate their title credentials with a performance and results against an inconsistent City.
However City themselves will have renewed belief in their own abilities following a draw with Liverpool last time out, the return of Laporte at the heart of their defence, Jesus leading the line in place of a false 9, a midweek hat-trick for Torres and Foden's first goals for England… they also have much to play for in what could propel them into the Top 4 still with their game in hand from the first round of fixtures.
The game promises entertainment, though its also a real possibility that if the scores are still level in the final quarter, that not losing will become the priority over collecting all 3 points.
I believe there will be a penalty, I believe there will be goals, I believe Spurs are a better shout than the 3/1 being offered by SkyBet.
Man of the Weekend: Jamie Vardy
Unless you've been hiding under a rock this week (and Liverpool fans will wish Mo Salah had been instead of attending a wedding and contracting Covid), you will be fully aware that Liverpool are suffering an injury crisis in defence. van Dijk's absence will be prolonged into 2021, but Fabinho, Gomez and Trent Alexander-Arnold are also carrying injuries. Andrew Robertson gave everything for Scotland to qualify for Euro2020 and suffered a minor injury as a consequence, and to be fair their defence has not been solid this season at the best of times. So who would you not want to be holding a high line against this weekend? Jamie Vardy. As the scourge of so many sides this season, carrying the form from terrorising the Leeds backline and a rest through international week, Vardy – Barnes – Maddison will be pressing and chasing everything in Liverpool's half causing further chaos to an unsettled defence. I am not necessarily expecting him to get the winning goal, but his contributions this season without the ball and in assists means Leicester will be more than a handful at Anfield and provide ongoing concerns about that backline.
Vardy's record against the Big 6 is sublime, and against Liverpool reads as 11 games, 7 goals, 1 assist. I 100% believe this will improve this weekend.
Tipped Treble:
@Newcastle Away Win 4/9
@Spurs Double Chance Spurs or Draw EVENS
@Fulham Over 2.5 Goals 4/6
Chelsea are the side in form, and despite the international break, carry so many threats that it's hard to see an inconsistent Newcastle side keeping pace with them. Following the last return from an international break, Chelsea dominated at home to Southampton before late goals cost them the win – but they went on to concede just one goal in 6 matches that included 4 wins. They're dangerous, and entertaining. All things do come to an end, and Newcastle will work hard for the points, but they're yet to fully connect as a unit and this hurdle will be too high for them.
As discussed, Spurs vs Man City should be a rollercoaster of a game, but I do not believe Man City are rightly the favourites being presented. EVEN money will cover the Spurs win or draw in this fixture, and whilst it is always brave to bet against City, this season's form suggests Spurs are the more likely victors. City, a side normally so full of goals and attacking prowess, are the biggest surprise in goal return – especially with the mayhem of 20/21, only scoring 10 this term from 7 league games. In contrast, Spurs have 19 from 8.
Everton can welcome back Richarlison this weekend, and it's much needed to stem the loss of points that have occurred in his absence. Richarlison scored midweek for Brazil, and will be hungry for more. As mentioned previously, Everton have not won a game without him since he arrived from Watford. Considering the pre-Richarlison ban form from the Toffees, they had a 100% win record, scored 12 and conceded 5 in 4 matches. They'll see the visit to the Cottage as an opportunity to return to form. Fulham on the other hand have attempted to tighen up in recent games, but have still found themselves on the losing side. With more pressure on them to get results at home, they're likely to provide Everton with chances in their pursuit of creating their own. Lookman will have double motivation to prove himself, following his failed Panenka penalty to earn a point last time out, but also because Everton let him go earlier in his career.