Liverpool closed a pulsating weekend of football with a stunning demolition of one of the League's best defences to prove they're rightly still favourites to win the Premier League.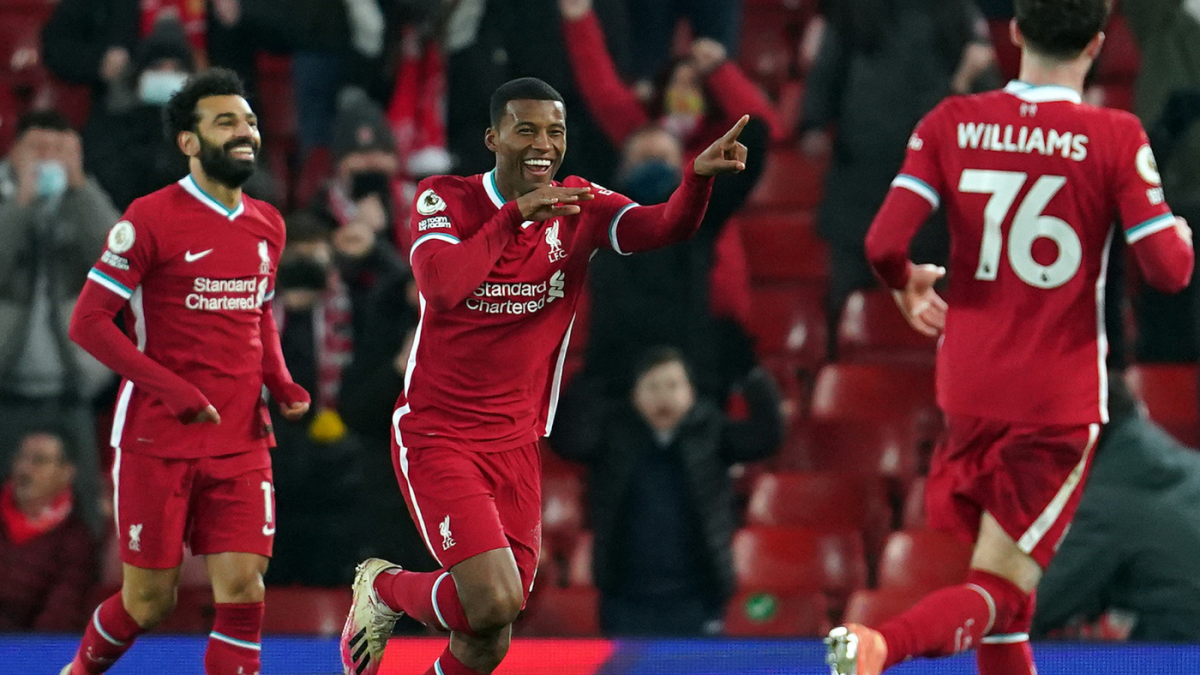 When Jurgen Klopp isn't taking to his lectern and delivering Nuremburg-esque speeches about our abandonment of player welfare, the unfairness of early kick-offs, and raising his troops against what is unfounded evidence of a permanent conspiracy about Liverpool (come on admit it, he looks like someone with film reels of the JFK assassination, press cuttings of that Pentagon missile from 9/11 and a blog subscription to 'How Gerry McCann Got Away With It), he is clearly still spending quality time on the training field – not just with his Stars – not just with his starting line-up – but the entire Liverpool playing staff because the whole organisation is singing beautifully from the same song sheet – this time against Wolves, seemingly irrelevant to his starting XI, Liverpool rock and rolled for 90 minutes with another clean sheet for the unheard of goalkeeper, inexperienced defence, and the usual mob up top banging in the goals. As with the moon landing, the answer is staring us straight in the face but we just don't want to admit it… Liverpool are so far ahead of everyone, there's absolutely no chance of anyone actually getting there… right Conspiracist Klopp?
Match of the Weekend: West Ham 1 Man Utd 3
Pre-game David Moyes had earned himself a lot of column inches having raised West Ham to 5th in the table and hosting a United side that Hammers fans held genuine belief they could / should be taking points from.
Post-game, David Moyes has reminded everyone that there is a stubborn rigidity to his sides and whilst they can be difficult to beat and create chances – they're predictable, and do not adapt quickly to change. Also, ultimately, they're West Ham, and do not have hundreds of millions of pounds worth of talent to change a game when it's not going your way. With David Moyes, you know what you are getting and the limitations of that expression. Whilst they did create chances, and Jared Bowen was excellent in tying up Telles left, right and centre, they're not dynamic and consistent enough in the final third. What they would give to replace Bowen-Fornals-Haller with Greenwood-Martial-Cavani. If he can maintain a mid-table position for a few years, West Ham fans will be happy – and they can then attempt to build from that base as they have failed previously. Until then… nights like Saturday will come and go, offering Hammers false optimism of taking the lead against the big teams, but not able to see it out often enough to actually give a damn about chasing Europe etc.
As mentioned pre-game about Ole's United – they're disjointed – completely unrecognisable as a football side – yet they're again in the chase for the Top 4 and primed for Champions League knockout football. It left Gary Neville bewildered, in the space of 5 minutes he was angry and passionate about how poor United were, to then laughing about being 2 points off the top of the table. He even suggested early on, the best thing United could do was whack the ball into their own net because somehow it's the only way they start playing. The other notable change in their tempo was the arrival of Bruno Fernandes at half-time. Without him, United are lost children waiting to be picked off. With him, they're energetic children on a sugar rush, chasing down everything, running onto everything, and unleashing shots on goal with confidence everything they touch is going to rocket into the back of the net. This bunch of children need something more than a slightly older child babysitting them, but actual leadership and control. Surely Ole's time is numbered, even if he wins some kind of trophy, this football is not sustainable physically, mentally or financially.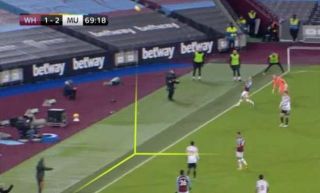 Oh… the Match of the Weekend obviously also came with a new VAR controversy as only the best league in the world can deliver… did Henderson's clearance leave the field of play before being converted by Fernandes and Pogba? Well… probably. Next season we should have line judges to ensure this doe… linesmen? Nah, they're a thing of the past. You must mean Referee's Assistant? Yeah. Can't be expecting them to just look down the line they run up and down all day and make decisions…
Result of the Weekend: Liverpool 4 Wolves 0
"I think one more week we are top of the League, unless Liverpool win by many – and against Wolves, they don't win by many" Mourinho post-Arsenal match interview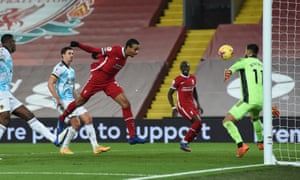 Gauntlet set. Mourinho wasn't exactly wrong, Liverpool needed another 5 goals to actually reach the Premier League summit, but the sentiment remains the same. In what is widely regarded as a difficult fixture at home to Wolves – one Mourinho himself lost last season – Liverpool stepped up and dispatched them comfortably 4-0 to re-affirm their position as the best team in the country. It's been a quiet period for waxing lyrical about Liverpool, the attention for them has been elsewhere on injuries, fixtures and the victim syndrome they have. In this recent time, pundits have focussed on Spurs and Chelsea and the excellent form they're in. Yesterday, Liverpool set out to steal back the narrative. Their first fixture as Champions with fans in the Kop, this was party time – to celebrate being Champions, to ignite the fuse on becoming Champions again.
They didn't just win, they put Wolves to the sword. Their weakened team taking to the field, rotation in place up front, the old familiar routine returned. Salah, goal and assist. Big win, clean sheet. The gegenpress putting new England Centre-back Conor Coady under so much pressure that following his error leading to the first goal, he then inextricably dived to win a penalty – a penalty given until VAR correctly overturned it.
If you're not a fan of Liverpool, or furthermore despise them as most fans from the 80s do… the remainder of the season does not look good. Sky will be absolutely fuming that the big top of the table clash next midweek between Liverpool and Spurs is on Amazon Prime – and the rest of us should be rightly concerned about the bandwidth required for the millions of fans across the globe trying to watch every moment of what could be considered to be a title winning decider down the road. Book it in – Wednesday 16th December at 8pm.
In Form: Normality
No side in the bottom half of the Premier League table picked up a win this weekend, with 11th placed Palace's 5-1 demolition the closest. Normality is resuming. This can be skewed by which fixtures are occurring, but the league table is also offering signs that the unpredictable results, scorelines, performances, etc are fading out of this season. Also, we're getting a sense of what is a mad result anyhow, as teams like Arsenal and Sheffield United just show their true colours for being poor sides.
City, United, Chelsea, Leicester, Spurs, Liverpool all won their fixtures and that routine will follow as closely as it can through the winter and into Spring whilst European football takes a backseat. Midweek games will remain as the League continues to fit into its tight schedule, but this will be more unfamiliar to those teams not in Europe and struggling to find form and consistency anyhow.
Big 6 consistency is a gambler's paradise.
Out of Form: Arsenal / Aubameyang / Arteta
"I want to give words, congratulations to Mikel Arteta because he gave us a very difficult game. Tactically they are very good, very organised. They gave us problems, problems we were able to resolve. They have a good tactical courage and incredible spirt. They are a good team and he is a good coach." Jose Mourinho, post-Arsenal interview.
A cheap dig, or genuine praise? Either way the Spurs faithful were loving Jose's praise of Mikel Arteta and his evolution of football at Arsenal. At the start of the season, Arteta's Arsenal had arrived as FA Cup Winners, knocking out City and Chelsea at Wembley. Then, Community Shield Winners defeating Liverpool. They started with 100% record after 3 games, and everything was rosy in the Garden of Emirates. Then…
Furloughed staff, redundant mascots, Ozil's exile… Aubameyang's contract… Aubameyang's one goal from open play all season… Arsenal's one win and six defeats in 8 league games…
Wheels truly off – Arsenal Fan TV are already retailing 'Arteta Out' t-shirts for £22.
Given that Sheffield United have one point from 11 games, Arsenal have to be pretty disappointing this season for the focus to be on them – and focus it is, particularly when the other half of North London are having their best season for 40 years, Arsenal themselves have not had a worse start to a league campaign since 1981.
Their reliance on Aubameyang to get them out of trouble is trouble itself. His goals last season propelled Arsenal into a false position – and that was only 8th. With his drought coming at a time of transitional development for players such as Saka, Pepe, Martinelli, Willock and others, Arsenal look completely lost in the final third and are more hopeful of clear cut chances than expectant. Sunday was a return to Arsene's worst periods, when they would repeatedly pass the ball to each other on the edge of the opposition box without ever being clinical with their opportunities. This period happened to be whilst Arteta played under Wenger. This Arsenal form is cyclical.
Roy Keane joked last weekend after the Leeds game that they would have enough to stay up, mocking the fall from grace Arsenal find themselves in – but this week that seems like an even more legitimate point of conversation. Arsenal are not just 15th in the league, but they have also played 3 of the 5 teams below them and you can rightly question where their next points are coming from.
I do believe there will be 3 worse teams than them this season, but on form that is already debateable.