England's footballing superiority neutralises the bloody history of their political past.
I was just a naive 10 year old boy when England went to visit the Republic of Ireland in February 1995. England had failed to qualify for the USA 94, the previous summer's World Cup. In hindsight, that enabled me to truly enjoy a summer tournament without the hype and hyper-critical media that surrounds the England team every 2 years. I got to sit at home and watch all of the excitement – mainly around Brazil – but all of it, including supporting Ireland as the only home nation. I re-iterate… I was naive. I believed we were all getting behind Ireland (I later discovered I am part Irish, certainly part enough to get hammered on Guinness every March 17th), but it turns out that was not the case. Sure, they had household names from the Premier League in their squad, and the infamous Jack Charlton at the helm – also it turns out a lot of their players were born in England – but anyway the point was that at the time Ireland were arguably the better side. For England, Terry Venables was now in charge, the team was young and attacking, and we were preparing for our assault on winning Euro 96 through a number of friendlies over 2 years. This game was due to be special. Unfortunately, it was at this game that I started to learn of the political past of these two nations.
For those that do not know, the game was abandoned with less than 30 minutes played. "Fans" within the Landsown Road crowd had used this opportunity to make further political statements. This was a time of an active IRA. Seats were destroyed and thrown to the pitch. Fans were removed for their safety. Players huddled together on the field in complete dismay. This was only 25 years ago.
Since then, we have played Ireland twice more and the fixtures have filled me with nerves. There really should be no reason to be concerned, Ireland vs England Rugby occurs every year (albeit with a unified rugby side, not separated by borders) with no incident – but that says a lot more for the fans of both sports. Football and Hooliganism, particularly in the UK, have gone far too hand in hand for decades, and despite the great work completed by the FAs, the Police, and fan bodies – there is always a concern when the big sides do get together that their fans have ulterior motives. Even with no fans present at the stadium today, I suspect somewhere there will be animosity that grows into physical exertion. Hopefully it peaks at slamming an empty crisp packet to the floor. But with recent political inferences to breaches of the Good Friday agreement, it would be a good time for an extremist to have their voice heard again… Anyway, from a football point of view…
A list of results between the two sides highlighted two major things for me. Firstly, that there's only been 16 meetings between the two nations in all history – the first in 1946. That strikes me as peculiar for a next door neighbour. Secondly, is the head-to-head records and the recent form.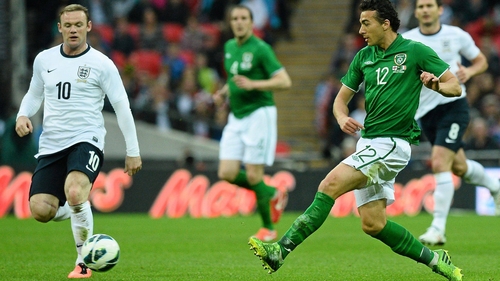 Played – 16
Ireland – 2
Draws – 9
England – 5

Last 7 Fixtures:
Germany 88 : 1-0 Ireland
Italia 90 : 1-1
Ire : 1-1
Eng : 1-1
Ire : 0-0* Abandoned
Eng : 1-1
Ire : 0-0
England have failed to win in SEVEN appearances against Ireland. That is an awful record. England are blessed with so many more resources and talent than Ireland, have consistently held a much higher ranking, and performed better in tournaments – yet Ireland appear to have a hold over us – ironically given the political past. History does have a tendency to repeat itself, so perhaps a draw is again on the cards tonight. Tonight's friendly is more symbolic than competitive, and a peaceful draw could benefit both parties. I'm not suggesting that is what we will set out for, but given poor performances against Iceland and Denmark recently, it's hardly like we can expect much better from England tonight.
It's convinced me anyhow, that a draw is the only option at the bookies.